Andrei Johann (29) was bitten by a shark while surfing at
Atlântida beach ( in Rio Grande do Sul, Brazil ).
The victim suffered injuries to his right foot.
Shark species presumably involved :
- Hammerhead shark (Sphyrna sp.)
( according to local marine biologist Santiago Montealegre ).
REFERENCE:
31/01/2010 | 19h15min.
Para especialista, animal que feriu surfista no Litoral Norte do RS pode ser um tubarão-martelo
Características da mordida indicariam que pode se tratar de um filhote de tubarão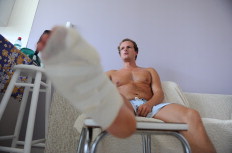 Johann foi atacado enquanto surfava em Atlântida
Em entrevista por telefone, de Rio Grande, no Rio Grande do Sul, o biólogo marinho Santiago Montealegre, especialista em tubarões da Fundação Universidade Rio Grande, disse que o animal que feriu um surfista no sábado, em Atlântida, no Litoral Norte do Estado, pode ser um tubarão-martelo.
O analista de sistemas Andrei Johann, de Porto Alegre, foi ferido no pé enquanto surfava na praia de Atlântida. Segundo Montealegre, pelas características do ataque e da mordida, Johann pode ter sido atacado por um tubarão-martelo, espécie que se reproduz nessa época no litoral gaúcho.
O surfista, de 29 anos, relatou o momento do ataque.
— Senti um "mordidão" no pé que anestesiou o meu pé. Me assustei e subi para a prancha. Me deitei e ergui os pés — contou.
Após sangrar bastante, Johann foi socorrido por surfistas e banhistas e levado para o hospital de Capão da Canoa onde levou mais de 20 pontos.
http://www.clicrbs.com.br/diariocatarin ... 795031.xml